We may get the last minute "window shopping" by mutual funds this week, as they   purchase recent stock winners like AAPL to enhance their portfolios. Then we wait for first quarter earnings…….
Meanwhile, the GMI buy signal from 12/23   remains in place.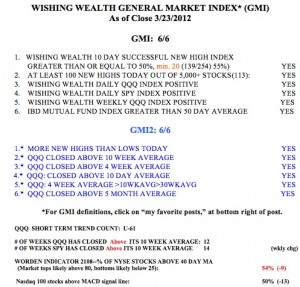 All of my indicators are positive.   Friday was the 61st day of the current QQQ short term up-trend.   Prior up-trends rarely go past 80 days.   The top could appropriately happen around late April, when we reach the, "Sell in May," period. So, I will watch the charts very closely for any sign of a meaningful top in late April.   The Worden T2108 Indicator remains in neutral territory, at 54%.   50% of the Nasdaq 100 stocks closed Friday with their MACD above their signal lines, an indicator sensitive to short term strength. The SPY has closed above its 10 week average for 12 straight weeks.
The weekly   GUPPY chart of the SPY shows this index to be in a strong accelerating up-trend.   It shows no signs of any top, with the short averages (red) rising well above the longer term averages in a RWB rocket pattern. Weakness will show up first in a decline of the red averages.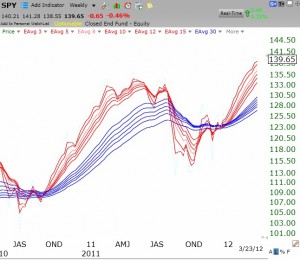 One of Judy's picks from a long time ago showed considerable strength on Friday.   As this weekly chart of MAKO shows, it broke out of a base to a new high on increased volume last week. Judy selects stocks first by their concept and bought MAKO around $7.   MAKO is a leader in the field of robotic surgery. Many boomers are going to need knee and hip repair……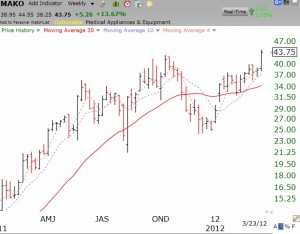 Judy's other   pick, INVN, also broke to an all-time high on Friday.