Check out the new link to my free Houston webinar on my blog. It provides a good overview of my trading strategy. It was managed by the very talented Julia Ormond, who will run the Worden workshop next week in the DC area. I will be attending on Friday, but not presenting. I hope to meet many of my readers.
I bought some CVX on Thursday when it broke above its green line top.     TC2000 automatically emailed me when the break out occurred. Check out this weekly chart of CVX.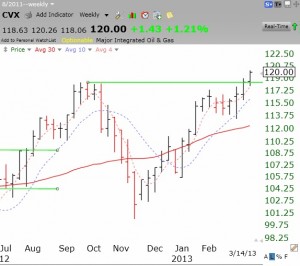 Other break-outs that came up in my scan on Thursday were :   SAIA, APOG and   SWI (almost).