This has been a schizoid market, with the leading tech stocks in the QQQ faltering, as the large cap growth stocks and biotechs took off. The FANG stocks (FB, AMZN, NFLX, GOOGL) sold off, as banks and large caps, defense stocks and construction stocks soared. Clearly someone has played the Trump card and built the proverbial WALL of worry for stocks (and would-be immigrants)  to scale. One must never fight the tape, and many stocks are breaking out, just not the ones I normally focus on. On Friday, there were 540 new 52 week highs and only 51 new lows in my universe of  4,900 US stocks.
The best performing S&P sectors last week were: XLF, +11% (financials), XLI,+8% (industrials) and XLV, +6% (health care). XLU, -4% (utilities) were tossed overboard along with climate change stocks (check out the sinking solar ETF, TAN).  TLT, the ETF representing 20+ year US treasuries, declined -7% reflecting fears of HUGE government projects, inflation and higher interest rates. Defense stocks flew high with NOC (+9.9%), RTN (+11.5%) and LMT (+9.7%).  The Trump-ets are proclaiming a rise in defense spending and build-up. And maybe we will rebuild our roads and airports with CAT (+13%) ASTE (+16.8%) and X (+29.5%). No longer fearing having to swallow a bitter pill offered by a "nasty woman", the biotechs rebounded last week, but most still remain well below their prior peaks.
Unfortunately, as a trader of growth stocks, I was not in the above stocks last week in my trading accounts, although I hope the mutual funds in my university pensions plans were. For those of us hiding in the index ETFs, we profited last week with SPY (+7.9%) and the DIA (+5.5%) but not with QQQ (+1.9%). For quite a while I had observed that the QQQ was outperforming these other two indexes–but last week reversed everything! It remains to be seen whether the growth stocks in the NASDAQ 100 will regain the lead–but in which direction?
Still, a lot of stocks broke out to new highs last week. I detected a lot of GLB (Green Line Break-outs to all time highs), and with nice increases in trading volume. Among them were: OLLI, WOR, AOSL, COHR, PLNT, AMPH, IRBT, LMAT, VSAT, ASTE, WLDN, CC, ZAYO, HQY, MLM, MYRG. (Some of these broke through their green line tops a few days earlier.) I do not know much about these stocks but they will remain in a special watchlist to monitor. One exception is OLLI, whose weekly chart appears below. OLLI doubled in a large advance and entered a nice 7 month consolidation from which it broke out to new highs on Friday. I must confess I bought some  OLLI on Friday. I will exit if the break out above the green line fails. I always know in advance the price action that will tell me that  my purchase is wrong and where I must exit. When a stock fails to behave as I anticipated I get out with a small loss and move on to the next winner. I do not marry a stock. As William O'Neil has written, all stocks are bad, unless they are going up!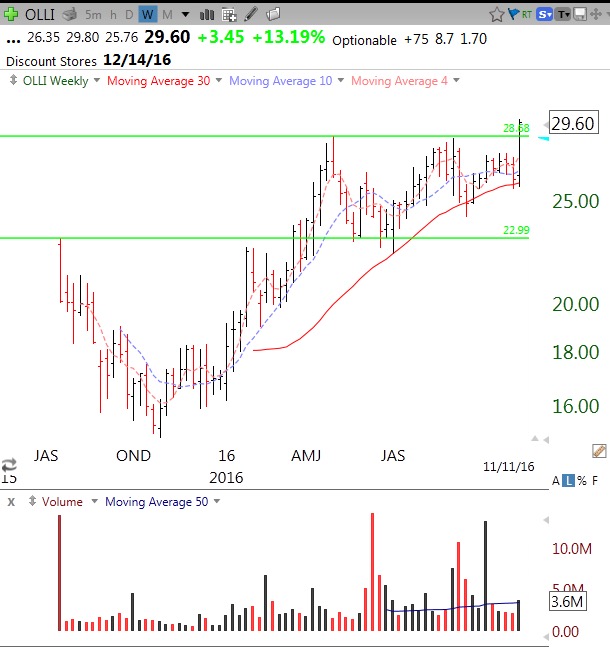 And HQY caught my attention, (Note support at 30 week avg–red line, and unusually high weekly volume–and it has already doubled from its lows!):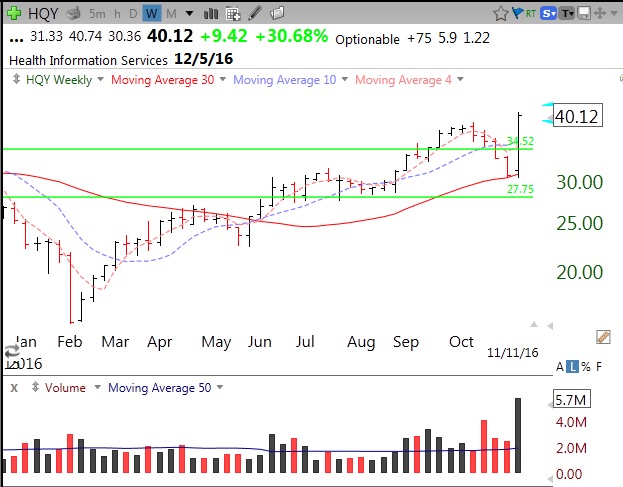 Below is the schizoid GMI table. The QQQ remains in the 11th day of a short term down-trend (D-11) while the GMI remains on a Green signal. The QQQ remains below its 10 week average even as the SPY has been above its 10 week average for 10 weeks!
I will tweet intraday this week if the short term trend reverses up. I also tweet about GLBs that I discover, so you can follow my tweets: @wishingwealtth (Remember, I write to teach people my methods and none of the above constitutes recommendations. One must always research stocks before buying and take into consideration your financial situation and tolerance for risk.