I have added two new books to those posted on the lower right of this page.   I only post books that I find have really added something to my trading success.   The one on exits, by Alan Ellman, is a third in his series on writing covered calls.   If you want to learn how to make money using this conservative options strategy, check out Alan's books and his very educational website, listed to the right.   The other book, by   Mark Minervini, is an excellent piece on how to pick super performing growth stocks.   When William O'Neil's protege and great trader, David Ryan, endorses a book, I listen.   Mark has walked the talk and I always tell my students to study the works written by those who made a fortune trading. Mark relies on the same stage analysis I have been writing about.   He also quotes amply from my guru, the great trader,   Jesse Livermore. Mark's book is worth reading again and again. If you click on these books on my site to order, my webmaster son (and I) would be grateful for the small contribution to his livelihood…
I was talking to Judy about some IPO stocks that came up in a scan I ran.   One of them, RGLS, she had noticed a while ago but failed to buy. " I can't buy everything I like," she said.   Anyway, RGLS, is 71% owned by insiders and Goldman Sachs Group is an institutional holder. We probably should research this company, which has already doubled since coming public last October.   Beware, however, it has no earnings, yet, just a lot of drugs under development. Why are people buying it?   Must be a mistake. But Judy also likes the concept–microRNA technology.   Check out this weekly chart and research the company.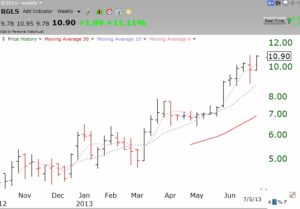 I can't end on a stock that makes no money.   REX came up in my new high and good recent earnings scan. Its earnings last quarter were up triple digits! Check out this weekly chart. REX just broke through its green line top to an all-time high.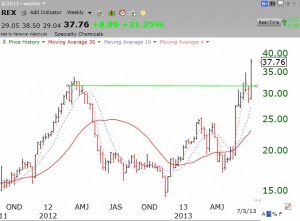 The GMI signal has changed to Buy and I began to buy TQQQ on Friday.   One more up day will turn the QQQ short term trend up.