All three indexes are now in RWB weekly up-trends.   Below is the weekly GMMA for the Nasdaq Comp Index;   it is the same pattern as the QQQ, DIA and SPY. It looks like the markets are breaking out to a new solid up-trend.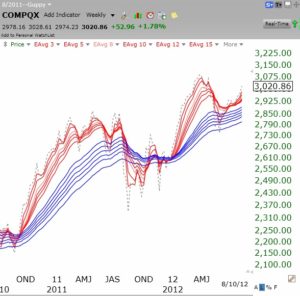 This is consistent with the strong GMI and GMI2 shown in the table below. The QQQ and SPY have closed above their 10 week averages for 7 weeks.   The Worden T2108 is high, at 75%, but not in overbought territory. Over 80% of the Nasdaq 100 stocks closed with their MACD above their signal line, an indication of short term strength.
Below is a list of stocks hitting 52 week highs on Friday and having good fundamentals:
ASH, LKQ, SBS, DTV, PSS, OSIS, MLNX and VRSN.   I could not resist posting mid-day Friday about OSIS .   It is breaking out of a green line base to an all-time high.   This weekly GMMA chart of OSIS shows it is a RWB rocket stock.