A few warnings signs flashed on Friday.   While 82% of the Nasdaq 100 stocks rose, only 31% of all U.S. stocks rose.   As I tweeted during the day, the Worden T2108 fell on Friday in the midst of the rise in techs and was a cause for concern.   (My rare tweets can be followed: @WishingWealth) .   Another ominous signal was the way the QQQ traded above its upper BB. See this daily chart.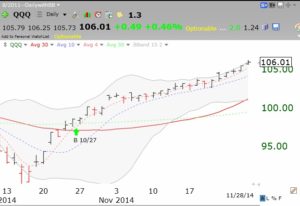 Since the bottom on 10/16, there have been no periods with two consecutive down days. And the QQQ rose on 8 of the last 10 days. It doesn't get much better than this for the bulls. I suspect we could have a decline back to the lower BB, around 101, this week. And then we might not.   To protect myself, I bought some insurance in the form of December call options on SQQQ.   SQQQ aims to rise 3X as much as QQQ declines. This option position will serve to hedge my long positions. And if my stocks rise and the calls expire worthless I will be very happy.   Who frets about paying home insurance when at the end of the year their home did not burn down! Was the insurance wasted money?
The GMI remains at a strong 6 (of 6).