For the first time since December 29, I recorded over 100 new 52 week highs in one day out of about 5100 U.S. stocks. The only GMI component that is still not positive is the most important. The QQQ is still below its 30 week average. On the other hand, the other indexes are strengthening. The SPY, NYSE, DOW 30 Industrial and the DOW 20 Transportation indexes have all reclaimed their 30 week averages. These indexes were the first to weaken and are now the first to strengthen. Remember that the T2108 also reached levels in January only seen at major market bottoms. Here is the weekly chart of the SPY. While it has retaken its 30 week average (red line), I will not be very bullish until that average turns up again.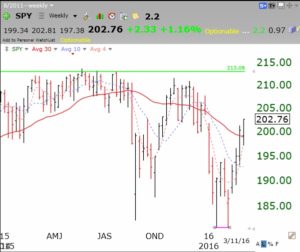 The psychology of the market has changed. People can only stay scared for a limited amount of time. I believe we have worn out the fear surrounding oil and China. It will take something new to really scare investors again. Perhaps if the FED starts to raise interest rates again that will precipitate a major decline. Unless these indexes close back below their 30 week averages, I will continue to slowly reinvest in stocks.
The composition of stocks hitting new highs last week is amazing. Of the 152 stocks over $15 that hit a new high last week, 53% had dividend yields of 2% or more and 26% paid 3% or more. The most frequent  industries in this new high list were utilities, 24% followed by REITs, 7%. In other words 31% of the stocks that hit new highs last week were utilities and REITs. This is not a growth stock market. The winners of the bull market, especially biotechs,  have been decimated. The boomers, smarting from their losses and earning nothing in their savings accounts are piling into safe dividend paying stocks and ETFs. Perhaps in a few months after people become more confident of a market bottom, people will take chances with the more speculative stocks. For now, it looks like the solid dividend paying companies are where the new highs will be seen. Of course, if we get to the "Sell in May" season and the FED starts to raise, there may be no place to hide from a reinvigorated bear…..