Last weekend I wrote that only 6 of 38 country index ETFs I follow were above their rising 30 week moving averages (Stage II up-trend). Now there are only 3–US (SPY), Ireland (EIRL) and Israel (EIS). The markets around the rest of the world are flashing signs of weakness. I have sold all my positions  in my trading accounts and remain in cash in my university pensions. Chickens live to fly another day. If one cannot be out of the market then s/he may be addicted to the thrill of trading. All of my trading gurus, including Jesse Livermore, have said that there is a time to be on the sidelines.
After failing to hold its green line break-out (GLB, see glossary) earlier this year, GS is now in an unfolding Stage 4 down-trend. When GS is ill, it is ominous for the entire market. (see weekly charts)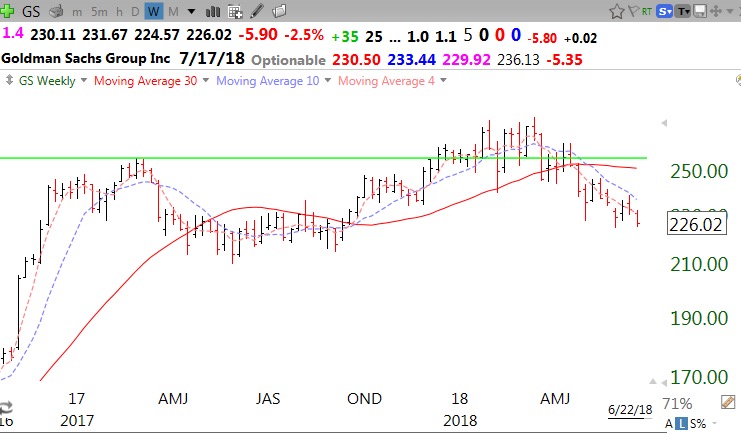 The global bank index is also forming a Stage 4 decline. I rest my case.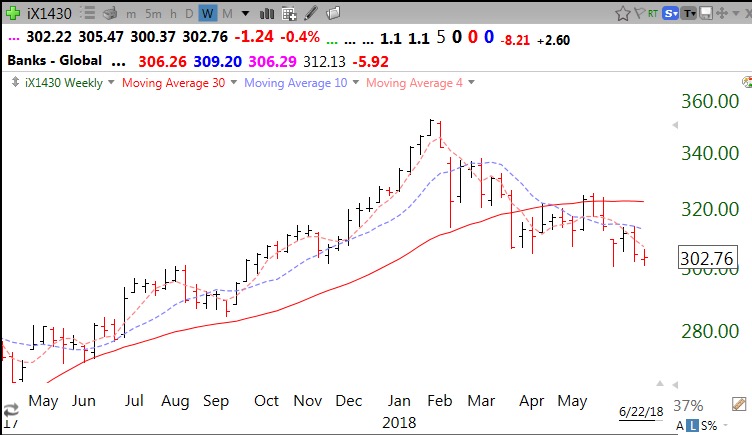 Meanwhile, reflecting the strength of the US markets, the GMI is at 5 (of 6).