The GMI is at zero for the first time since 7/20/06.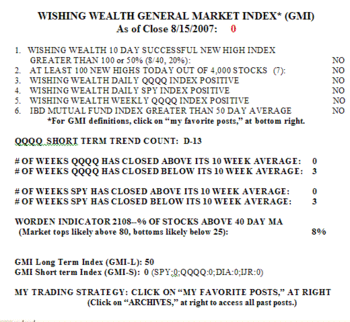 There were only 7 new highs and 354 new lows in my universe of 4,000 stocks. Wednesday was the 13th day (D-13) in the current QQQQ down-trend. The Worden T2108 indicator slipped to 8%, near the most extreme levels seen at market declines. (See my prior post.) Even the long term indicators have weakened, with the GMI-L now at 50%.
The short term interest rate indicator has shown a remarkable decline the past few days. This indicator often foreshadows moves by the Federal Reserve. I think the indicator is telegraphing an imminent rate cut by the Fed.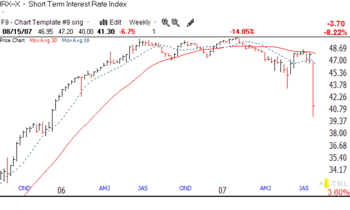 A rate cut would cause a vigorous snap back market rally, but such rallies do not necessarily become the permanent market bottom. It can take a while for lower rates to revive the economy and the market.
For me, the best place to be is in cash and a little short the major indexes. This is no time for heroes.