The GMI rose to +5, and the S&P 500 and Dow 30 stocks strengthened. Even the QQQQ looks like it may fall into place, although it is still in the thirteenth day of a short term down trend (D-13).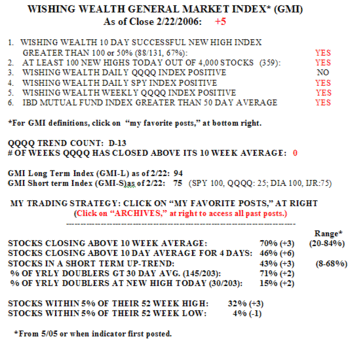 There were 359 new highs in my universe of 4,000 stocks. 85% of the Nasdaq 100 stocks rose on Wednesday, along with 79% of the S&P 500 stocks and 73% of the Dow 30 stocks. 43% of stocks are in a short term up trend, up from 29% a week ago. And 70% of stocks closed above their 10 week averages. All indicators increased and 32% of stocks are now within 5% of their 52 week highs….
I attended our local IBD Meetup tonight. It struck me that this is the rally that people love to hate. Why do we appear to distrust this up trend in the large cap stocks, as measured by the Dow 30 and the S&P 500? Maybe this rally has further to go.
Please send your comments to: silentknight@wishingwealthblog.com.