To my visitors: I am only one trader, not a guru, and not a financial advisor. I am presenting my own opinions and my own experiences and people are welcome to decide for themselves what, if anything, on this site is of value to them. Please refer to the additional comments, highlighted in red, at the end of this post.
The GMI remains at +6 and the tech stocks continue to lead this rally.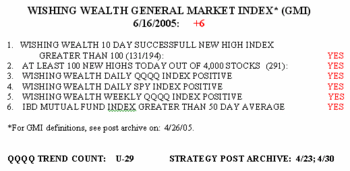 There were 291 new highs today in my universe of 4,000 stocks and only 12 new lows. This is the greatest ratio of new highs to new lows since I posted the GMI on April 26. By the way, a number of you have asked me how I compute the GMI–just check out my post in the archive on 4/26. 68% of the Nasdaq 100 stocks rose today, 69% of the S&P 500 stocks and 57% of the Dow 30. This is turning into a respectable rally, having lasted for 29 days (U-29).
I thought you might like to see what ETF's (exchange traded funds)have performed best in this period. So, I used TC2005 to run a scan of ETF's when the QQQQ advanced 5.2%. The winners are OIH (+10.5%, oil service); EWW (+9.5%, Mexico stocks); IGW (+9%, semiconductors); IYE (+8.8%, energy); PWT and XLE (+8.6%, energy) and IIH (+8.5%, internet). Clearly the oil and energy sectors were the place to be. Will they continue to lead this rally?
The biggest losers include EZA (-5%, South Africa); BHH (-4.5%, B2B internet); EWK (-2.8% Belgium) and EWJ (-1.6%, Japan). Other more traditional sector ETF's that were weak include PPH, IXP, XLP and XLV. PPH (-1%) includes all of those wonderful pharmaceutical stocks (LLY, BMY, JNJ, WYE, SGP, MRK, VRX—these stocks declined 2.3-13.6% in this period) that the pundits have been recommending to conservative investors in difficult times (like these??) I told you weeks ago that JNJ looked sick.
By the way, the short term interest rate index I have been monitoring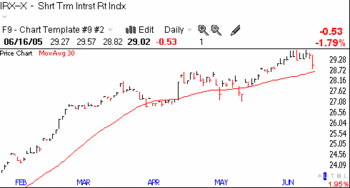 cracked today. Speculators are betting less on interest rate hikes, at least today they did. (Click on chart to enlarge.)
Send your feedback and questions to: silentknight@wishingwealthblog.com.
Please remember that the stock market is a risky place, especially now. I am not providing recommendations for you to follow. My goal is to share tools and methods that I have used over the past 40 years of trading, so that you may learn from them and adapt them to your trading style and needs. While I do my best, I do not guarantee the accuracy of any statistics computed or any resources linked to my blog. Please consult with your financial adviser and a mental health practitioner before you enter the stock market, and please do not take unaffordable risks in the current market environment. See the About section for more statements designed to protect you (and me) as you navigate this market. Past performance does not guarantee future results, but I would rather learn from a former winner than a loser.