A strong rebound Monday, with a lot of conflicting signals. While the GMI remains at +1, it is noteworthy that 84% of the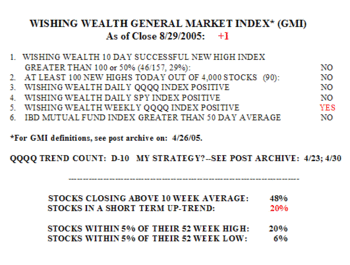 Nasdaq 100 stocks advanced today. This is the highest percentage of advancing NASDAQ stocks since July 8, when the last rally began. In addition, 80% of the Dow 30 stocks advanced, along with 72% of the S&P 500 stocks. There were 90 new highs Monday and 46 new lows. This is the highest number of new lows in my universe of 4,000 stocks, since June 27. There were only 46 10-day successful new highs. This is day 10 of the QQQQ decline (D-10). In spite of this snap back, the DIA, SPY and QQQQ remain well below their 30 day averages. Only 20% of stocks are in a short term up-trend……………………….
The housing stocks did not bounce Monday……………………………
A lot of people are betting on Martha Stewart's come-back. Look at this break out in her company's stock.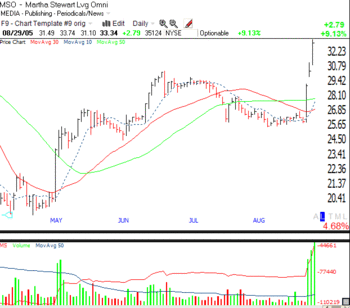 Last time MSO stock took off it was in anticipation of her release from prison. When she was finally released, the stock tumbled. So be careful–this stock could peak after the first show in her new Apprentice series. By the way, who is the apprentice–Martha or Donald?……………………
Please send me your feedback at: silentknight@wishingwealthblog.com.