My market indicators showed a lot of improvement today, but the GMI is still at +1 and the indexes are still well below their moving averages.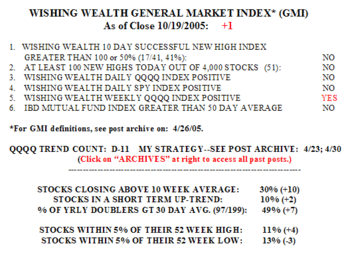 Between 80-85% of the Nasdaq 100, S&P 500 and Dow 30 stocks advanced on Wednesday, the most since September 6. There were 51 yearly highs, the most since October 4 (300 highs), but there were 219 new lows. The percentage of stocks in a short term up-trend rose 2, to 10% and the percentage above their 10 week averages rose 10, to 30%. 40% of the Nasdaq 100 stocks are above their 30 day averages, up from 24% on Wednesday. Almost as many stocks are now within 5% of their yearly highs as lows (11% vs 13%).
These signs of strength are promising, but not enough to get me to move my cash into stocks. The GMI needs to move up before I am willing to wade back into this market.
Please send me your feedback at: silentknight@wishingwealthblog.com.