I suggested yesterday that the market seemed like it could reverse in this sea of gloom. The QQQQ did break above its 30 day average on Monday and closed there.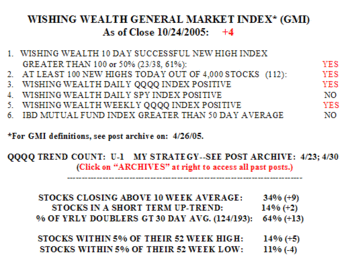 Moreover, 61% of the stocks that hit a new high 10 days ago closed higher on Monday than they did 10 days earlier. While this was far from the 100 successful 10 day new highs I would like to see for this index to count as positive, it would be impossible for this indicator to turn positive for some time if I required 100 succcessful 10 day new highs. This is because, before Monday, there has not been a day with 100 new highs since October 4. There were 112 new yearly highs in my universe of 4,000 stocks, and 48 new lows. This was the first day since October 4, that there have been more new highs than new lows. 86% of the Nasdaq 100 stocks rose, along with 91% of the S&P 500 stocks and 93% of the Dow 30 stocks. These are the strongest readings since September 6. 34% of the stocks in my universe closed above their 10 week averages, and 61% of the Nasdaq 100 stocks closed above their 30 day averages. 64% of the stocks that have doubled in the past year closed above their 30 day averages. And there are now more stocks within 5% of their 52 week high (14%) than their 52 week low (11%). In short, this market has strengthened considerably and I am moving from cash into equities. Monday was the first day in the new QQQQ up-trend (U-1).
Please send me your feedback at: silentknight@wishingwealthblog.com.