The GMI remains at +6, as the market continues to strengthen. There were 332 new highs on Monday, the most since September 9.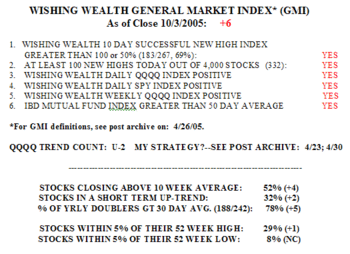 There were 183 stocks that hit a new high 10 days ago and closed higher Monday than 10 days earlier. Buying stocks at new highs 10 days ago has therefore been likely (69%) to have been profitable. The IBD Mutual Fund Index is now well above its 50 day average, indicating that growth stocks are rising. More than one half (52%) of the 4,000 stocks in my universe of stocks closed above their 10 week averages, and 32% are now in a short term up-trend. 29% of these stocks are now within 5% of their yearly highs and only 8% are near new lows. The Dow 30 stocks remain the weakest stocks, with only 33% rising on Monday, compared with 58% of the Nasdaq 100 stocks and 48% of the S&P 500 stocks. Monday was day two (U-2) of the QQQQ up-trend………………..
While there were 332 new highs yesterday, there was also a relatively large number (129) of new lows. This suggests considerable variability in performance. What sectors are strong vs. weak? Between 9/21-10/3 (since the QQQQ bottomed out) the following sectors rose the most: Semiconductor-memory chips (+8.9%), Internet software and services (+8.4%), Apparel stores (+8.1%), General contractors (+7.6%) and copper (+7.3%). The weakest were: Aluminum (-3.5%), Mortgage Investment (-3.3%), Nonmetallic Mineral Mining (-2.1%), Electronic Equipment (-1.9%), and Beverages-Brewers (-1.9%). The strongest stocks in the strongest sector, semiconductor-memory chips, in descending order were: LEXR, FLSH, MU, RMBS, ALSC, which were up 10%-32% during this 8 day period when the QQQQ rose 2.8%……………..
Please send me your feedback at: silentknight@wishingwealthblog.com.