While the indexes were stronger Thursday, some of my indicators hit new lows. On Thursday, 59% of the Nasdaq 100 stocks rose, 49% of the S&P 500 stocks and 50% of the Dow 30 stocks–a modest rebound.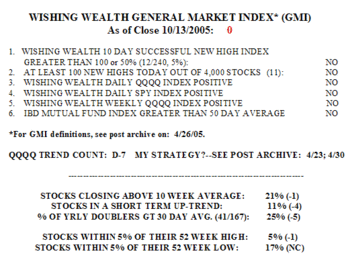 There were only 12 successful 10 day highs–12 of the 240 stocks that hit a new high 10 days ago closed higher Thursday than they did 10 days earlier. In comparison, there were 75 successful 10 day new lows. Buying stocks at new highs 10 days ago has clearly been a risky strategy. There were 8 yearly highs and 278 new lows in my universe of 4,000 stocks. Only 11% of stocks are in a short term up-trend. Thursday was day seven in the current QQQQ downtrend (D-7).
What more evidence do we need to know that this is the time to be in cash or short. As they used to say, not even a skunk could make a scent in this market. Last night, I visited with a physician friend whom I had taught my trading rules. He has made huge gains over the past few years. He has independently decided that it makes sense to trade only in strong rising markets and is now out of the market. He is content to wait for a long time, if necessary, before buying stocks. The next challenge for us all is to resist the temptation to buy "bargains" on the inevitable coming bounces, until the GMI signals a real change in trend.
Please send me your feedback at: silentknight@wishingwealthblog.com.