The GMI is steady at +6. On Monday there were 226 successful 10 day highs and 233 new 52 week highs.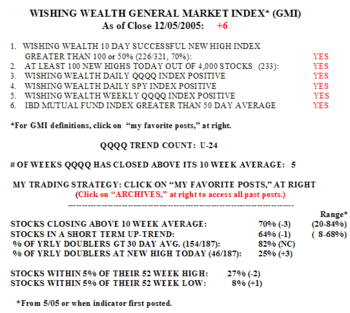 Only 27% of the Nasdaq 100 stocks rose, along with 31% of the S&P 500 stocks and 33% of the Dow 30 stocks. As this table shows, there was a little weakness in my indicators, but no reason to question the up-trend. Monday was the 24th day of the QQQQ up-trend (U-24).
A great indicator of a strong market is when the QQQQ's weekly closes remain above its 10 week moving average. In Saturday's post I noted how long some of the recent rallies have lasted. I therefore decided to add to the GMI table today a count of the number of weeks that the QQQQ has closed above its 10 week average. The current count is: 5…………………..
NOTE: A NEW SECTION TO THE BOTTOM RIGHT PROVIDES LINKS TO MY FAVORITE PRIOR POSTS. THESE INCLUDE MY STRATEGY POSTS, DEFINITIONS OF THE GMI COMPONENTS, AND MY ANALYSIS OF WHY THE TRADING TECHNIQUES OF THE GREAT NICOLAS DARVAS WORK BEST DURING BULL MARKETS AT ALL-TIME HIGHS.
How have you used this site to inform your trading? Can you send me some experiences I can post for others (anonymously, with your prior permission)? Please send your pearls of Wishdom to me at: silentknight@wishingwealthblog.com.