The GMI remains at +4 and in danger of falling again today if we have fewer than 100 successful ten day break-outs.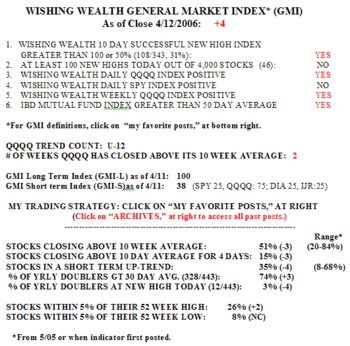 Between 55-57% of stocks in the QQQQ, SPY and DIA rose on Wednesday. There were 55 new yearly lows and 46 new highs, an ominous sign. Only 35% of the 4,000 stocks in the universe I follow are in a short term up trend, the lowest since March 10. Wednesday was the twelfth day (U-12) in the current short term up trend in the QQQQ.
Please send your comments to: silentknight@wishingwealthblog.com.