The GMI remains at +6, but the large cap stocks have weakened, at least in the short term. The GMI-S has fallen to 50, primarily because the Dow 30 and the S&P 500 indexes have declined.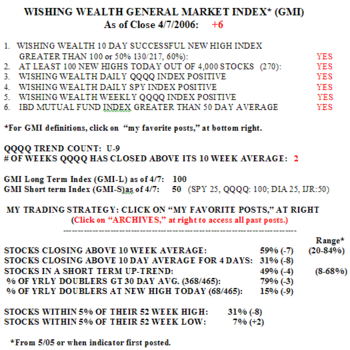 Only 20% of the Nasdaq 100 stocks rose on Friday along with just 13% of the S&P 500 stocks and 10% of the Dow 30 stocks. Friday was the ninth day in the QQQQ short term up trend (U-9). Most of the indicators in the table declined. But the QQQQ remains in a nice up trend, having completed its second consecutive week above its 10 week moving average.
Please send your comments to: silentknight@wishingwealthblog.com.