GMI is still at the maximum of +6, and all indicators are about the same. The QQQQ has closed above its 10 week average for five consecutive weeks, a strong sign of strength.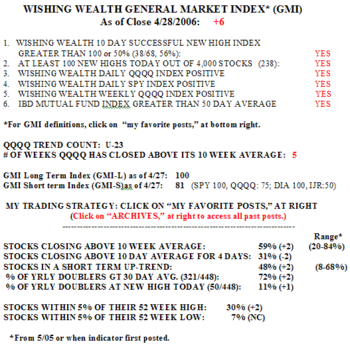 Almost one half (48%) of the 4,000 stocks in my universe are in a short term up trend and 59% are in a longer term up trend. With the leaders, GOOG and AAPL, showing signs of renewed strength, this market may have more to go on the up side. Friday was the 23rd day in the current short term up trend in the QQQQ. Between 39-47% of the stocks in the QQQQ, SPY and DIA climbed on Friday. There were 238 new yearly highs. Still, 30% of stocks closed within 5% of a yearly high…..
I bought back AAPL a few days ago. The stock is above its 30 day average (red line) which is gradually reversing to the up side. AAPL survived a retest of the average last week. I have seen this reversal pattern succeed many times. Note the high volume spikes (highlighted in yellow) on up days during the past few weeks.
Note also that the ten day average (dotted line) has crossed back above the 30 day average. As long as AAPL stays above its 30 day average, I will continue to hold onto it……………………
Please send your comments to: silentknight@wishingwealthblog.com.