I finally got a copy of IBD and found that the IBD Growth Mutual Fund Index has been below its 50 day average all week. So the GMI has actually been zero since Monday.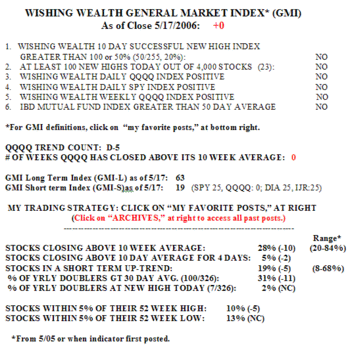 When the growth mutual fund managers cannot make money, neither can I–on the long side. But I have had hefty short positions in my IRA in the form of puts, for the past 2 weeks. So Wednesday was a gift. Only 15% of the Nasdaq 100 stocks rose along with 9% of the S&P 500 stocks and 3% (one) of the Dow 30 stocks. There were 23 yearly highs in my universe of 4,000 stocks and 134 new lows. Only 19% of stocks remain in a short term up trend and 28% are in a longer term up trend (above their 10 week averages). Wednesday was the fifth day (D-5) of the current QQQQ short term down trend. The GMI-L has fallen to 63 and the GMI-S is now at 19. Thus, both my long term and short term indicators for the major averages have deteriorated. I will use any rally to increase my short positions. More stocks are within 5% of a new low (13%) than a new high (10%). With inflation back and interest rates headed up, the markets are headed for some tough times. When they invite Cramer back on the Today Show, this time to talk about a depressed economy and an unending bear market, it will be time to go long again.
Please send your comments to: silentknight@wishingwealthblog.com.