The GMI remains at zero.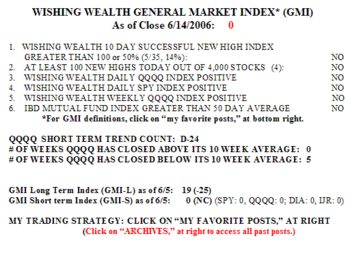 For the first time since June 1, the majority of stocks in all three indexes advanced– 63% of the Nasdaq 100 stocks, 61% of the S&P 500 and 83% of the Dow 30 stocks. There were still only 4 new highs and 245 new lows in my universe of nearly 4,000 stocks. Only 13% of stocks are in a short term up-trend, and only 14% closed above their 10 week averages. Wednesday was the 24th day in the current QQQQ down-trend.
The comparison of my universe of stocks and the IBD 100 shows a striking difference in performance on Wednesday. The IBD 100 stocks have been underperforming for weeks. On Wednesday, however,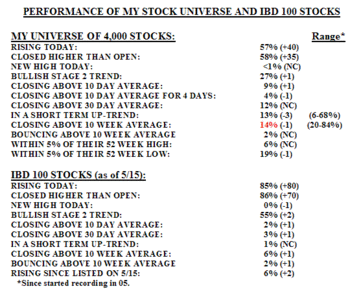 85% of the IBD 100 stocks advanced, compared with 57% of the stocks in my universe. 86% of the IBD 100 stocks closed above their opening price……
Usually after a severe down-trend, people are more comfortable wading into the conservative blue chip stocks; 83% of the Dow 30 stocks rose on Wednesday. The fact that most of the very oversold IBD 100 stocks also rose suggests to me that this rise may only be a dead cat bounce. The technical damage to the markets has been extensive and the markets would have to rise a lot more before the down-trends would be reversed. Time will tell if that will happen. Until then, I trade consistent with a continuing market down-trend.
Please send your comments to: silentknight@wishingwealthblog.com.