The GMI is still zero. Between 10-13% of the stocks in the Nasdaq 100, S&P 500 and Dow 30 indexes rose on Tuesday. There were 28 new highs and 149 new lows in my universe of nearly 4,000 stocks.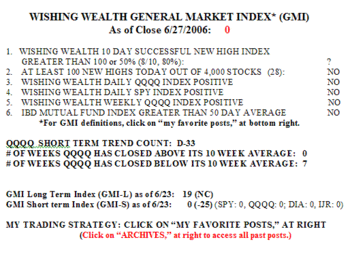 None of the GMI-S (short term) indicators are now positive. A scan of my universe of stocks yielded 5 Rockets and 433 Submarines. Thus, finding good shorts is 80x more likely than finding possible longs. Tuesday was the 33rd day in the QQQQ down-trend. The IBD 100 stocks did as badly as my universe of stocks.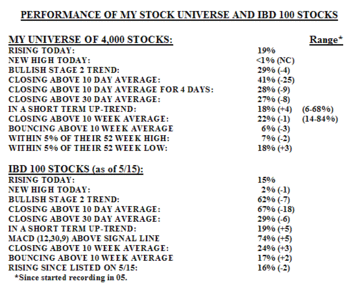 There were only 2 highs among the IBD 100 stocks listed on 5/15. Only 16 of them closed higher on Tuesday than where they closed on 5/15 when the list was published…..
This is a good time to be short or in cash. As I noted a few weeks ago,make sure your cash balances are swept into a high yielding money market fund. Fidelity brokerage IRA accounts automatically are swept into the Cash Reserves fund paying almost 5%, but many of the other deep discount brokers pay their customers minimal interest while they invest your funds at much higher interest rates for themselves. I have been told that some of these brokers will let you manually transfer your funds to a better paying fund, if you are smart enough to ask for it…..
Please send your comments to: silentknight@wishingwealthblog.com.