The GMI is +2 and we are in the second day (D-2) of the new QQQQ down-trend. I will wait to commit funds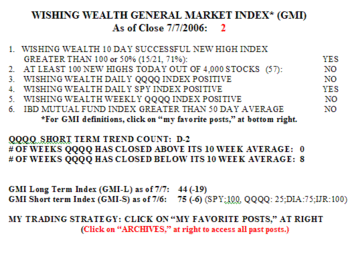 until after earnings season. Since 5/15, only 27% of the IBD 100 stocks listed on that date and 34% of my universe of nearly 4,000 stocks have advanced at all. With odds like these I should only be short or in cash. My scan of the market yielded 16 rocket stocks and 384 submarines. Only 2 IBD 100 stocks (PMTI, CME) from the list on 5/15 hit a new high on Friday. It would be insane to chase growth stocks and anticipate new highs in this market.
Please send your comments to: silentknight@wishingwealthblog.com.