The GMI remains at 4, and the techs strengthened on Monday. There were more new highs than lows (86 vs. 54) in my universe of 4,000 stocks. 71% of the Nasdaq 100 stocks rose, compared with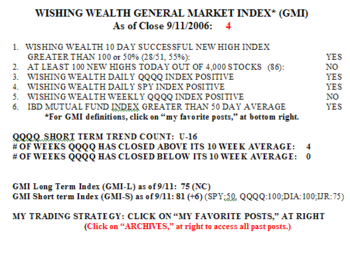 64% of the S&P 500 stocks and 54% of my universe of stocks. Clearly, tech stocks represented by the QQQQ were stronger on Monday. The QQQQ up-trend is in its sixteenth day. The GMI-S has risen to 81, as all four short term indicators of the QQQQ and DIA are positive. A few more up days for the QQQQ will convince me that the up-trend will continue and I will continue to accumulate QLD……….
Please send your comments to: silentknight@wishingwealthblog.com.