The GMI is still 6, in spite of Thursday's decline. Only 25-30% of stocks in the Nasdaq 100, S&P 500 and Dow 30 indexes advanced.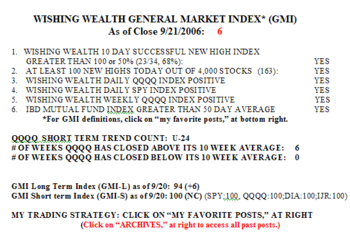 There were 163 new highs in my universe of 4,000 stocks. The QQQQ has now closed above its 10 week average for six weeks and is in its 24th day of an up-trend. GOOG has continued to stabilize and still appears positive unless it closes below 392.74. I also still like AAPL. (I own both of these stocks.) Market bottoms occur when people talk about recession; tops occur amid optimism.
Please send your comments to: silentknight@wishingwealthblog.com.