The GMI is at 6. If you read my post last Monday, you know that I expected a strong week with the mutual funds buying up the strong stocks for their end of quarter portfolio reports.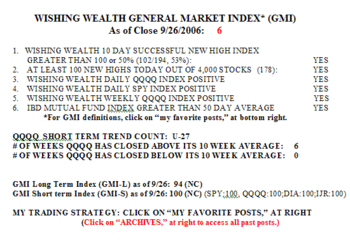 At the same time most of the media pundits were wringing their hands over inflation and housing woes and expecting a down week. It pays to think for yourself and go against the crowd.
Please send your comments to: silentknight@wishingwealthblog.com.