We keep hearing about how the Dow is at an all-time high. I looked at the price range of the 30 Dow stocks since the bubble top in 2000. Was I surprised to find that only 10 of the 30 stocks (33%) surpassed their 1999/2000 top in 2006: CAT, XOM, BA, AXP, JNJ, MO, C, UTX, MMM and PG. The fact that the Dow 30 average reached an all time high in 2006 is meaningless when 20 of the 30 stocks never got above their 1999/2000 bubble peaks! It all boils down to media hype to get unsuspecting investors to enter this record high market …
Meanwhile the GMI closed on Friday at 5 but the GMI-S fell 19, to 31.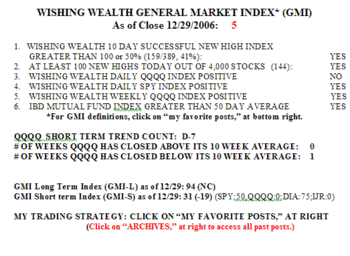 With the media talking about another great year, it is interesting that my short term indicators for the Nasdaq 100 stocks and the S&P 600 Small Cap stocks are all negative. Only 18% of the Nasdaq 100 and S&P 500 stocks rose on Friday, along with 23% of the Dow 30 stocks. Just 33% of the Nasdaq 100 stocks have closed above their 30 day averages. Only 18% of the IBD 100 list from 12/18 advanced and only 29% closed higher than they did on 12/18. Friday was the 7th day in the current QQQQ down-trend.
So, rather than try to predict the market, we need to look at what the market is doing now. The Nasdaq 100 stocks clearly are in a short term down-trend. The past leaders, RIMM, AAPL and GOOG, all look tired, and it has been several weeks since they hit new highs. Since the QQQQ hit a new high on 11/24, it has fallen 3.34% and 63% of the Nasdaq 100 stocks have declined. In fact, only 26% of the Nasdaq 100 stocks are up 1% or more since 11/24. With odds like these, I am mainly in cash and ready to accumulate more QID if the QQQQ continues to weaken.