All of my indicators have turned negative again and I am back to cash.   I have considered buying some QID, but with my short term moving averages being flat, I will probably get repeatedly whipsawed as the indexes move above and below their averages.   However, at some point a real tradable trend will develop. There were 3 new highs and 138 new lows in my universe of 4,000 stocks on Friday.   Only 30% of the Nasdaq 100 stocks closed above their 30 day averages and the QQQQ   just completed the 12th day of its short term down-trend.
One of the GMI's components tracks the percentage of "successful" stocks that hit a new high 10 days ago that closed higher today than they closed 10 days ago.   It is a useful indicator to see if break-out stocks are continuing to advance.   This indicator has been negative since late October,   largely because we rarely saw the required 20 new highs in a day.   You can see this indicator is still negative in the GMI table below….
I also calculate a similar indicator for "successful" new lows, which I do not post–stocks that hit a new low 10 days ago and then closed lower today than they did 10 days ago.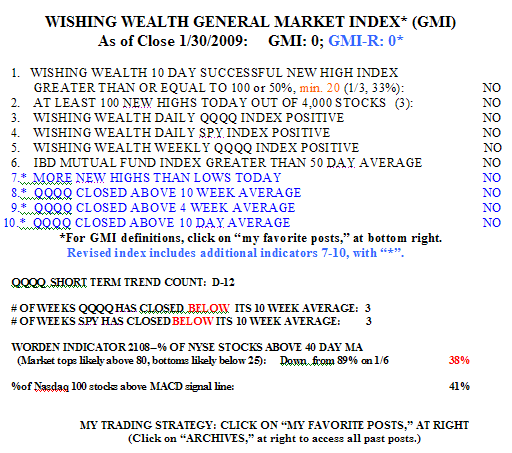 Well, that indicator has been above 70% for the past four days, indicating that shorting stocks at new lows 2 weeks ago was   likely to have been profitable.   Clearly, this   market has been inhospitable to the strategy of buying growth stocks breaking to new highs.   In fact, only 16 (16%) of the stocks on the IBD100 list published on Monday, January 5th,   closed higher on Friday than they did on January 2nd.   Among the best performers were ESI, NVEC, NFLX , NITE and OTEX –all up at least 14%. The Worden T2108 indicator is at 38%, which is in neutral territory.   A reading below 25% is where markets in the past have tended to bounce.   But this bear has bounced at much lower readings, sometimes below 10%.
Meanwhile, there are a few things working on the long side, for those wishing to fight the market trend.   Gold looks technically strong (ETF: GLD), as does NFLX, which is riding its new service for instant downloads of movies. My son tells me that his fellow college students are using this service.   A close by NFLX above $40 could signal a major move up.   Nevertheless, I remain mainly in cash.   Oh, for the good ol' days when the GMI was at 6–for months!