I know that the GMI has kept me and, I hope others, out of the long side of this market since at least August 2008, the last time that the GMI was 4.   I prefer the GMI to be at least 4 before I commit many IRA funds, and especially my university pension,   to the long side.   Since the GMI fell below 4 in late August, the QQQQ (Nasdaq100) and SPY(S&P 500) have declined 35%, and the DIA (Dow 30), by 31%.   During that same time period, 95% of the Nasdaq 100 stocks declined, 36% have declined more than 40%.   The biggest losers in the Nasdaq100 component stocks includes such well respected stocks as: RIMM, ISRG, and DELL (each down 63%), and JOYG (-69%)   and WYNN (-72%). As to   the "safe, buy and hold" Dow 30 stocks; 100% declined in this period, with whopping declines in: AXP (-58%), GE (-60%), GM (-75%), AA (-76%), C (-80%) and BAC (-81%).   Do you see why it does not make sense to fight the general market's trend, as reflected in the GMI!
Speaking of the GMI, the table below shows that the GMI remains at 1 (of 6)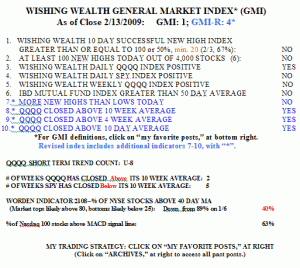 and the GMI-R at 4 (of 10).   Friday was the eighth day (U-8) of the current QQQQ short term up-trend.   The fact that the QQQQ is holding up is impressive, compared with the DIA and SPY, which contain financial stocks.   The Nasdaq100 index does not contain financials.   The QQQQ has closed above its key 10 week average for 2 weeks, while the SPY has closed below its 10 week average for 8 weeks.   The Worden T2108 Indicator is at 40%, in neutral territory.   63% of the Nasdaq100 stocks have their MACD above its signal line, a show of possible strength….
I created a new watch list in TC2007 that contains the IBD100 list of stocks for the coming week.   It is noteworthy that since I added the last list in late January, one third of the stocks have been replaced by new, stronger stocks.   That is why it is misleading to take IBD's claims for the   outperformance of the IBD 100 stocks at face value.   This is because they are continually replacing the dogs   with new, stronger stocks.   Regardless, I confine almost all of my buys to IBD 100 stocks because they do so well in up markets.   In a bear market, however, they can do poorly.   For example, according to my records, 80% of the stocks on the IBD100 list published in the 3rd week of January closed Friday below their price on the day that list was published.   Buying growth stocks in a weak market is a risky strategy.
Nevertheless, I do find some stocks on the IBD 100 list that appear to be quite strong.   Stocks like AVAV, EBS, MYGN, NFLX, SXL, SXCI, GMCR and MANT appear to me to show promise if this market turns up for a while (I do own a little of some of these).   Still, I rely heavily on the GMI to signal when I should return to the long side of the market……
Speaking of stocks bucking the down-trend, TSYS recently caught my eye and I bought some.   It is in the wireless business and recently reported blow-out revenue and earnings. I noticed the huge high volume rise on February 6 when earnings were released and watched as TSYS consolidated for a few days.   Then on Friday it broke to a new high.   It looks like a possible cup with handle breakout on this weekly chart.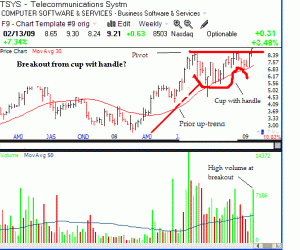 Note the prior up-trend in which the stock tripled.   A prior up-trend is a necessary component of a successful cup with handle.   Then TSYS formed a top around $8.75, and began about a 5 month base.   During the formation of the handle, volume fell off, a good sign.   Then last week, we saw a break to a new high above the pivot point, around $8.91, on much higher than normal volume.   It remains to be seen whether TSYS   performs like a successful break out from a cup with handle formation, a pattern made famous by William O'neil, the founder of IBD……..
Finally, if you have been watching the Jim Cramer show, you might have noticed that he has become a recent convert to technical anaysis, now even citing the impressions of IBD chart analysts.   I think it amusing that Cramer now asserts that he has always valued technical analysis.   This is pure revisionist history–for many months he poked fun at chartists as morons.   I think that the failure of so many of the stocks he touted for months based on his purely fundamental analysis   has given him a little TA religion—– or maybe he is just sucking up to IBD,   one of his show's sponsors….