This monthly chart of the Dow 30 really scares me.   On a long term basis, it looks like we have merely retraced a part of the decline from the 2007 market high.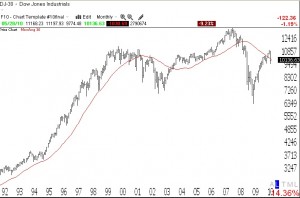 In fact, the market rally has stopped at about the peak of the market in 1999-2000.   The Dow has now started down and the 30 month moving average (red line) is headed down.   This chart almost looks like a giant head and shoulders top!   What if the rise off of the 2008 bottom is over and we will now head back down to around Dow 7,000 or below?   Compare the up-trends in the 90's and in 2004-2007 when the Dow was above its rising moving average, to the pattern the past year with the Dow below its declining moving average.   This chart, which is almost identical to that of the S&P500 index, makes me challenge my assumptions about this market.   I am watching the trend carefully and am contemplating transferring my university pension money out of mutual funds and into money market funds….
The GMI is back to zero and the more sensitive GMI-R is at 2.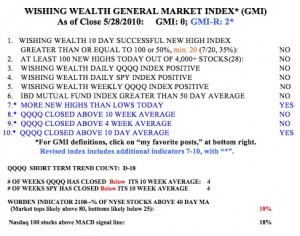 The QQQQ completed its 18th day of its short term down-trend.   The QQQQ and SPY have closed below their 10 week averages for four weeks.   I rarely can make money owning growth stocks when these indexes are below their 10 week averages.   The Worden T2108 Indicator is at 18%, still near oversold territory from which the market can rally.   For me though, the odds are against my owning stocks.   I own a little GLD and remain largely in cash.   If you can't get out of the market and sit safely on the sidelines in a down-trend, you may want to question whether you are in the market to make money or to satisfy an addiction to trading.   If you can,   pick up a copy of the old classic, The Money Game, by Adam Smith (a pseudonym), and read this perspicacious discussion of the diverse psychological motivations that bring people to the stock market.   Many persons are not there to make money.   Are you?