I know many people doubt the ability of this rally to continue.   But the QQQQ short term up-trend is only 11 days old!   I decided to apply the stochastics   indicator to the Worden T2108 Indicator.   The T2108 acts as a pendulum of the market, going from overbought to oversold, as does the stochastic.   The weekly chart below (click on to enlarge) shows the stochastic of the T2108 compared with the performance of the Dow 30.   What is clear to me is that the stochastic, while high,   is still climbing and shows no sign of an impending decline.   So this rally may have a ways to go.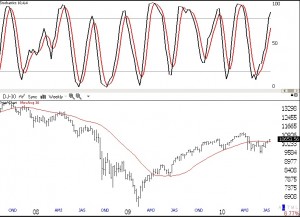 The GMI is 6 (of 6) and the more sensitive GMI-R is 10 (of 10).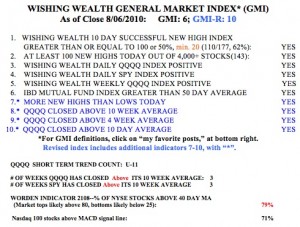 The SPY and QQQQ have closed above their critical 10 week averages for three straight weeks.   The T2108 is at 79%, which is in overbought territory, but it can stay there for weeks. I ran a new scan that finds stocks with a relative strength rank of 95 or higher for three time periods.   Among these stocks were 4 that are also on my IBD100 or New America watch lists: IDSA, CRUS, APKT, NFLX.   I own one of these. I think it is worth researching these stocks for possible buy points.