According to how I define short term trends, QQQ is still in an up-trend, having completed its 12th day on Friday. We will see whether it will hold this week.   The GMI is still 1 (of 6) and the GMI-2 is zero.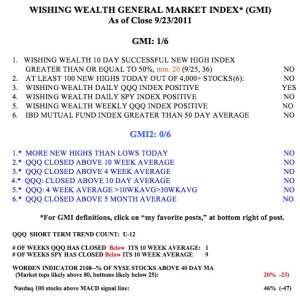 The T2108 is at 20%, in low, neutral territory.   The T2108 indicator reached 7%, very oversold, at the August market bottom. Note that the SPY has closed below its 10 week average for 9 weeks but the QQQ for just one week.   This   reflects the fact that the Nasdaq 100 Index (QQQ), unlike the S&P500 Index (SPY)   contains no financial stocks. And as in 2008, the major weakness is showing up in the financial stocks.
My stock buddy, Judy, asked me where I thought gold would find support.   I sent her the weekly chart of GLD below. Note how well GLD has found support at the 30 week average (red line) since the current up-trend began in early 2009.   Since then GLD has been in a perfect Stage II advance.   Support should therefore be around $154. Click on chart to enlarge.
I remain partially invested long in this market, but will exit all positions if the short term up-trend ends.