With the QQQ now back above its 30 week average (solid red line), I am ready to reenter this market. The QQQ, composed of tech stocks, is outperforming the SPY and DIA.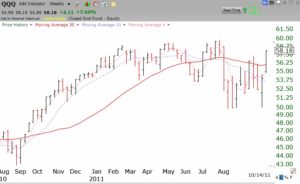 Friday was the 4th day of the new QQQ short term up-trend. AAPL has emerged as a leader again and there is too much bearish market sentiment.
The GMI is now back to 4, reflecting the growing strength in the market indexes.
Check out this weekly chart of AAPL.   It is back above its 10 week average (blue dotted line). Click on chart to enlarge.