I am in cash in my trading accounts.   With the GMI at 1, there is no reason to hold long positions.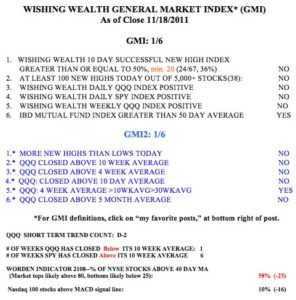 Note that the QQQ has now closed below its 10 week average, but the Spy is still above it.   With the T2108 indicator at 58%, the market is not in oversold territory.
I would not be long WTW now.   The stock came up in my Stage 4 scan and it looks like WTW could become a big loser!   Note the heavy institutional selling visible in the large red volume spikes during   weeks in which the stock declined. Click on chart to enlarge.