It is interesting to see that IBD still considers the market to be in a correction.   The QQQ remains in a short term down-trend according to my definition, but the GMI flashed a buy signal last Thursday.
I bought some MELI on Monday after it appeared to break out from a steep cup-with-handle base.   On November 3, MELI gapped up on blow-out earnings. On Sunday night, I used TC2000 to set a price alert that would tell me that MELI was near a break-out point.   I received an email during the day on Monday and bought the stock and a near month put option to protect me from any decline. This weekly chart of MELI shows the base pattern.   The daily volume of MELI on Monday was more than twice its 50 day average of volume. Click on weekly chart to enlarge. Owning a Dec 90 put means that I can sleep soundly with the knowledge that even if MELI should decline to zero by a week from this Friday, I can still put (sell) the stock to someone at $90 per share. Put options offer a wonderful way to   manage risk in the stock market.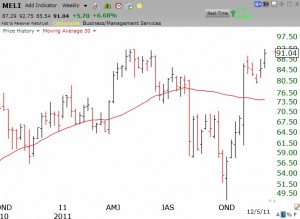 I also received a buy alert on FTNT, when it appeared to break   out of a   a cup-with-handle base on above average volume.