With Tuesday's rebound the GMI rose 2, to 3 (of 6).   IBD still considers the market to be in a correction, absent a large volume increase (follow-through day) in one of the averages. Tuesday was the second day of the new QQQ short term down-trend.   I have observed that if a new short term trend can persist for five days, there is a high probability that it will continue for at least several weeks.   If the QQQ should rise on Wednesday, the short term trend will turn up again. Trend followers resist predicting the trend, we call the trend after it has defined itself.   The GMI sell signal issued on 4/11 is still in effect, as this daily chart of the QQQ shows. Click on chart to enlarge.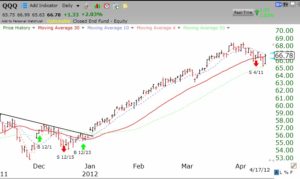 The QQQ remains in a strong Stage 2 up-trend.   My longer term university money remains invested in mutual funds. Stage analysis uses the weekly chart: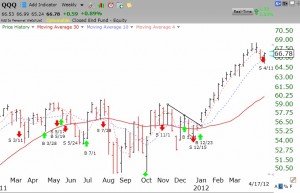 If you cannot see the charts, please go to the original site URL.