LL came up on my new high with good fundamentals TC2000 scan Wednesday night. On August 18, I posted about LL breaking to an all-time high. It is now about 10% higher. This weekly chart of LL shows it breaking above a 2 year green line base to an all-time high and continuing to gain strength.   LL is also on one of my watchlists that indicate that IBD wrote about it as a promising stock. IBD currently gives LL the highest possible composite rating of 99.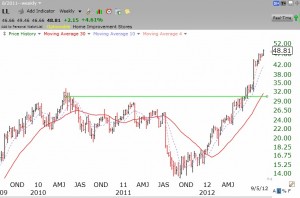 ASH also came up in Wednesday's scan. This monthly green line chart shows that ASH is close to breaking the all-time high it reached in 2006 (75.17).   A close above this level could trigger a new rise in this stock, which also has an IBD composite rating of 99.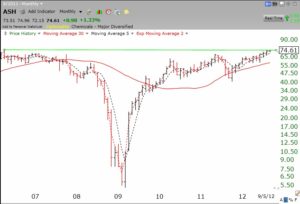 You can check out my recent Worden Workshop video by clicking here. You can also view two of my free Worden webinars from 2010 by clicking   here and here.   Enjoy!!!