With the GMI and GMI2 at maximum readings I am still looking for promising stocks.   I wrote last week about LNKD and today I am highlighting KORS, which I own.   KORS came public in December, 2011, doubled, and then consolidated for about six months. I drew in a green line top on its monthly chart, indicating that the stock formed a top at an all-time high.   KORS broke above the green line in August and has spent five weeks trading back and forth just above the green line, which now serves as support.   Last Friday, however, KORS   surged to a new high on the highest   volume since August 14.   KORS has an IBD Composite rating of 99, the highest possible rating. Check out this weekly chart of KORS. Note the black spikes indicating a lot of trading volume during up weeks. KORS reports earnings on October 28.
Stocks that have come public in the recent past and that show movement to new highs often can have terrific runs when they prove themselves, as more mutual funds begin to notice and   accumulate the new stock. When I buy a stock that has a green line break-out I set my stop loss below the green line. If my analysis is correct, the stock should not close below the green line.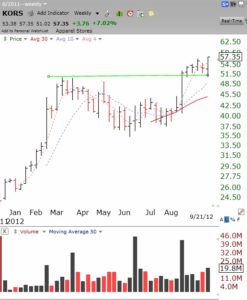 The GMI has been flashing a buy signal since July 30.   The only warning sign I see in the table below is the high T2108 reading (78%).   Readings above 80% can often persist for several months as a temporary top forms.