GMI remains at 6, while IBD still sees market in a correction.   SILC came up in my scan (see scan results below) and it turns out it is a recent green line break-out stock. I draw a   green line on a monthly stock   at an all-time high that has not been penetrated (or closed above) for three straight months. SILC is breaking its peak from 2007 and is at an all-time high.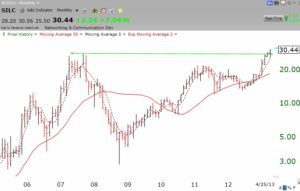 This weekly chart shows a high volume break-out this week. Note that the volume of shares traded through Thursday has already surpassed the total   volume each of the prior 12 weeks. IBD rates this stock very highly. I need to research SILC for possible purchase.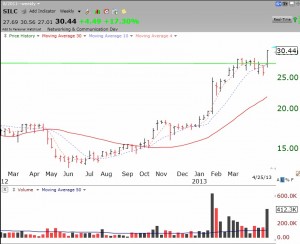 Here is the current new high plus good recent earnings TC2000 scan results.   Please let me know if you want me to keep posting my scans. I want to know if anyone finds them useful. Comments are always appreciated.