The weekly chart usually provides me with a better picture of the market's main trend.   The weekly chart of the QQQ below clearly shows that this index has been in a Stage 2 up-trend.   Note that the index is well above its rising 30 week average (red line).   As long as the major indexes show this pattern, I remain 100% invested in my primary university pension accounts.   All of the major indexes I follow (QQQ, DIA and SPY) are in Stage 2 up-trends.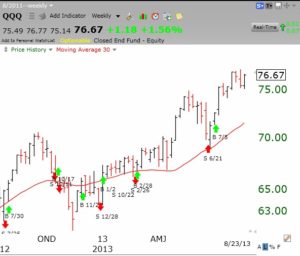 You can also see from this chart all of the recent   GMI buy/sell signals.   The GMI has been on a Buy since July 5.
The table below shows the components of the GMI and the GMI2. I have revised the GMI2 by adding two new indicators (7 and 8) that I want to monitor.   I use the GMI2   to keep me focused on this set of 8 very technical indicators and not for specific buy/sell signals.   Note that the GMI2=8, which means that all of its indicators are positive.