The markets are very short term oversold. There were over 900 new lows on Monday, the most since August 24, the day of the flash crash. About 75% of the Nasdaq 100 stocks have a Stochastics below 20 and almost as many reached their lower 15.2 daily Bollinger Band. This is a very oversold market. With earnings season upon us, we are due for a relief rally. I will seek to short the major indexes when this rally loses steam, if one occurs. As this daily chart shows, the QQQ closed at 104.33 on Monday. Possible areas of resistance are around 109 and 112.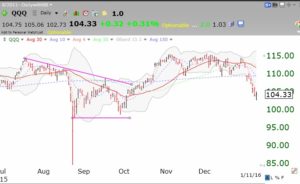 I suspect the flight to gold, for safety, may be over for now. GLD is backing down from its upper 15.2 daily Bollinger Band where it was quite overbought.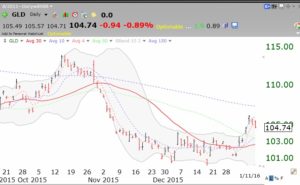 GLD remains in a multi-year BWR down-trend. See my prior post for an explanation of the BWR pattern.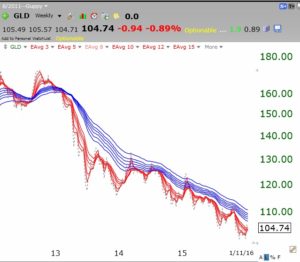 By the way, AAPL has now formed a BWR down-trend. I wouldn't go out on a limb for it…..