I have written often that I am a chicken these days with my trading account, as I get closer to retiring. I hold three very small positions on stocks that bounced from oversold and held on Friday. If they fail to hold their bounces on Monday I will be stopped out and 100% in cash. The stock gurus I respect all say there are times to be out of the market. At times like now I sleep better while on the sidelines.
On Friday, there were 370 new lows and 46 new yearly highs among 6700+ US stocks. There were only 13 stocks at all-time-highs (ATH). Those are terrible odds for someone like me who likes to buy stocks at ATH that are bouncing off support or breaking out. Two more weak days will end the QQQ short term up-trend, currently at U-29. Remember, it is not the news itself but the market's reaction to it that provides an indication of the health and likely direction of the market. Only 18% of stocks that hit a new high 10 days ago closed higher on Friday, what I call successful new highs. On the other hand there were 66% successful new lows–stocks that hit a new low 10 days ago and closed lower on Friday. Shorting new lows has been more likely to be profitable than buying stocks at new highs.
The put/call ratio=.84 on Friday. That was the highest since .88 on September 20, at the beginning of a 19 day QQQ short term down-trend, and a day when only 5% of Nasdaq100 stocks rose. 12% rose on Friday. The daily 10.1 stochastic reached oversold, at 7.55. I would like to see the slower daily 10.4 stochastic, now at 39.14,  be less than 20 for a real bounce to occur. See these stochastic indicators at the October low. I am also concerned to see that the MACD 12/26/9 daily histogram is now red and steadily declining. Notice how it climbed at the October bottom. If we get a recovery on Monday, I would not trust it until it proves itself.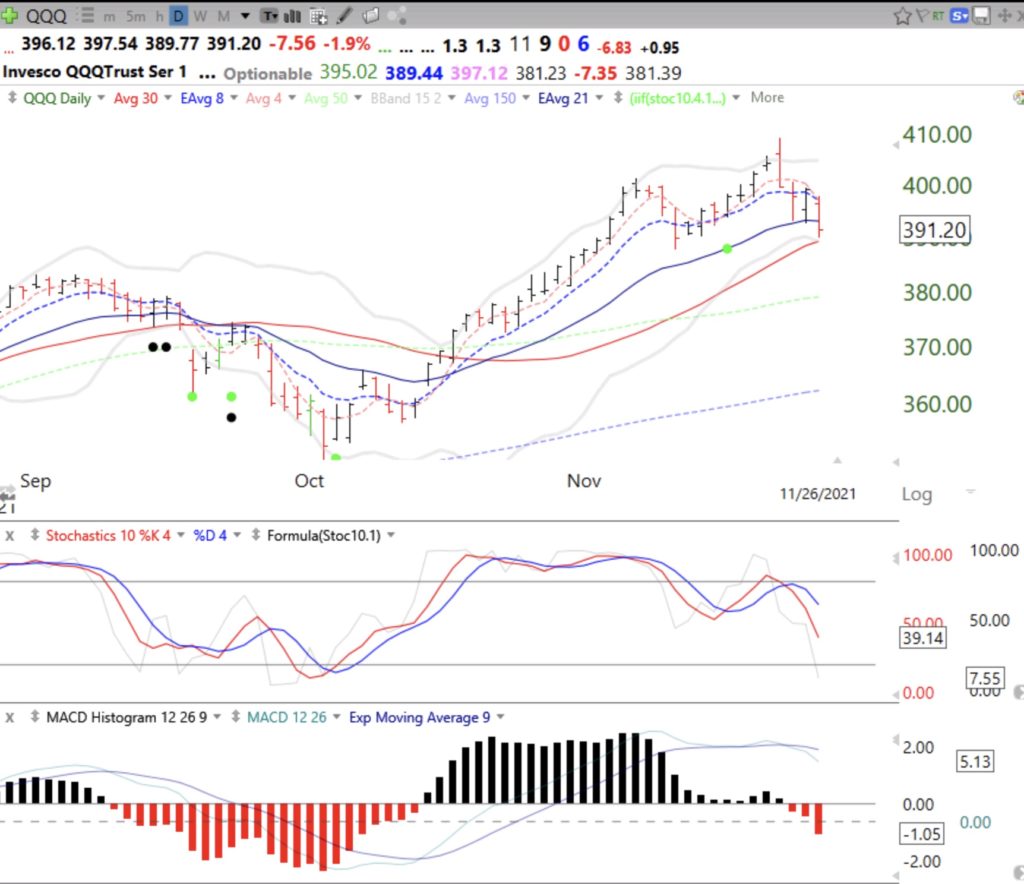 The GMI=2 (of 6) and a second day below 3 will turn its signal Red. The Worden T2108 indicator=37%. Major bottoms are most likely to occur with T2108 below 10%.