Tomorrow afternoon I welcome 135 freshmen to my class. It will be a challenge keeping them interested in a market in a down-trend. The virtual trading exercise will also be difficult for them. I am also teaching without the help of my late colleague and co-instructor, David McCandlish, whose untimely death in a boating accident last February has pained us all. However, introducing young people to technical analysis tools is very rewarding to me.
The GMI is back to 0 and this is no time to be taking on many long positions. Many break-outs fail. An example of a failed green line break-out, GLB, is CELH. Look at this daily chart. On august 23 it had a nice break-out above its green line on above average volume. It stayed above its green line for 3 days and then closed below it. That would require me to sell it immediately. Anytime I buy because of a GLB I must sell immediately if it closes back below the green line. Of course if CELH should retake the green line that would be a buy signal.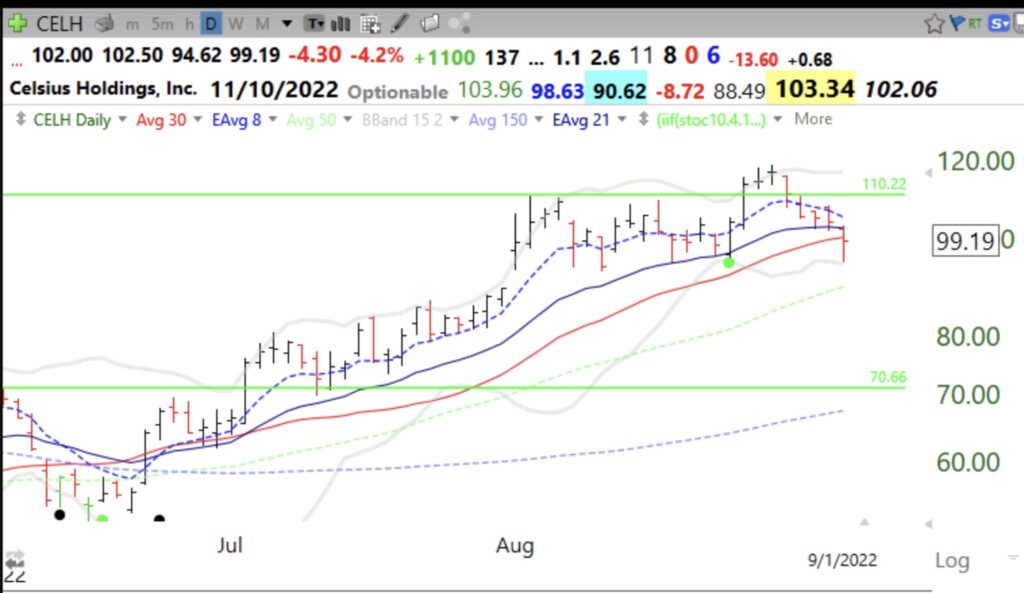 Only 2 stocks out of 7,408 reached an ATH on Thursday. One of them, RXDX, had a GLB on above average volume. Let's see if this one can hold its green line. A stock that can hit an ATH (all-time-high) in this market may have something going for it. RXDX is also a recent IPO having come public in March, 2021.