The GMI remains at 4 after two weak days. Only 25-27% of the stocks in the Dow, Nasdaq 100 and S&P 500 indexes advanced on Thursday. There were more new yearly lows than highs in my universe of 4,000 stocks (49 vs. 39).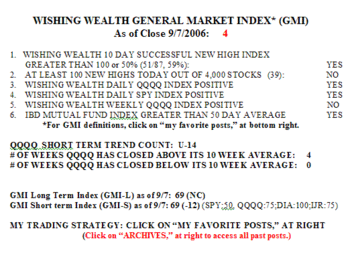 The GMI-S is now down to 69, indicating that more short term indicators have weakened. Still, the QQQQ is in its fourteenth day of its up-trend and has completed four weeks above its 10 week average. Only 56% of the Nasdaq 100 stocks closed above their 30 day averages, down from 84% just three days ago. A few more down days might force me to question the current QQQQ up-trend……
There is a major disconnect between the rhetoric in the media regarding widespread fear of the FED's raising short term interest rates and the behavior of the short term interest rate index. That index has consistently closed above its 30 day average (red line) and the 10 day average (dotted line) has consistently closed above its 30 day average since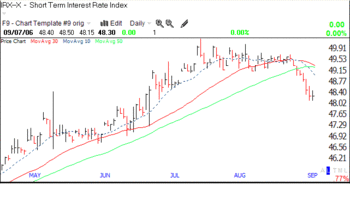 April, 2004. So why is this index in a steep decline with the 10 day average now below its 30 day average? Is this fear-induced market decline setting the stage for a huge rally when/if the Fed does not raise rates again?? Something does not add up here–unless there is a recession on the horizon???…………………….
Please send your comments to: silentknight@wishingwealthblog.com.