The GMI fell to 4; only 61 new highs in my stock universe and only 10-18% of the stocks in the Nasdaq 100, S&P 500 and Dow 30 indexes rose on Wednesday. The last time we saw numbers like this was July 11 and 12.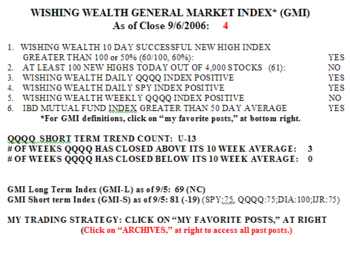 The short term up-trend in the QQQQ is still intact and is in its thirteenth day. Still, I am holding off accumulating any more stock until I see another strong up day.
Please send your comments to: silentknight@wishingwealthblog.com.