All of my indicators are positive again.   My university pension is now   100% invested in mutual funds and at all-time highs. The GMI table below shows
that things look good.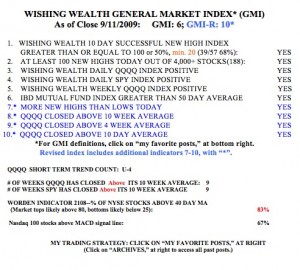 The SPY and QQQQ have closed the past 9 weeks above their 10 week averages, a sign of technical strength.   We trend followers must follow the trend and not resist it or have our judgment impaired by the media pundits.
Note that GMCR, which I wrote about months ago as a buy, now may be forming a head and shoulders top.   I am   out of this stock and would be concerned if I still owned it, if   it closes below 52.   The key is to wait to see how far the current bounce goes….