The QQQQ short term up-trend completed its 24th day on Friday.   During the time of this up-trend, the QQQQ has risen +8.9%, the SPY +6.3%, and the DIA +6.4%.   On the other hand the ultra long index ETF's have done much better, QLD +18.5% and the TYH +26.7%.   So, we see again the virtue of buying the ultra long index ETF's at the beginning of a QQQQ short term up-trend.   Eight QQQQ short term up-trends have lasted between 31-86 days in the past couple of years.   So the current up-trend may have a ways to go.   After we enter earnings season we also enter the November-April part of the year during which most market gains have occurred.   So   I remain 100% long in mutual funds in my university pension and largely long in my trading IRA and margin accounts.   If I listened to the news and the media pundits, rather than my indicators, I would be scared out of equities.
So my GMI is at 6 (of 6) and the GMI-R is at 10 (of 10). The Worden T2108 is at 86%, near over-bought territory but it can remain there for quite a while.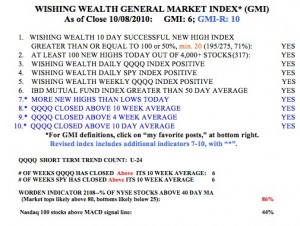 The SPY and QQQQ have closed above their critical 10 week averages for 6 weeks, a major sign of strength in the up-trend. Only 44% of the Nasdaq 100 stocks closed with their MACD above its signal line, down from 63% last Friday, a sign of some short term weakness. As I wrote last week, I believe the strength in IBM augurs well for a strong Dow and a strong tech rally in the near future.
Meanwhile, my undergraduate students are about to begin their virtual stock trading competition.   To help them select stocks this week I ran a special scan of all stocks in my IBD 100 and New America watch list. This scan looked for stocks that have recently hit a new high then became oversold and just bounced off of or broke above their 30 day averages.   It also filters stocks on revenue growth and a few other technical criteria.   This list of stocks (see scan results below–click on to enlarge)   is a starting point for them to research to see if a stock meets their other fundamental and technical criteria.   All students must have an objective set of trading rules approved by me before they can trade. My TC 2007 tab shown below lists a host of fundamental and technical criteria (EPS change most recent quarter, prior quarter and annual; PE, price/price a year ago; % change in revenue last quarter;   P/S ratio and ROE) and the list is sorted by ROE. If they buy one of these stocks, they should place a stop order to sell (GTC stop loss) somewhere below the stock's 30 day average.   Good luck students!