Monday was the 30th day of the current QQQQ (Nasdaq 100 ETF) short term up-trend.   The prior short term up-trend lasted 51 days and was followed by a brief two day down-trend.   Thus, we have been in a short term up-trend for 81 of the past 83 days.   The GMI nd GMI-R are at their maximum levels. It rarely gets much better then this…….
I did an analysis of how the major Indexes performed in 2010, compared with exchange traded funds (ETF's) and the top performing Nasdaq 100 stocks.   (Click on table to enlarge.) I again came to the same conclusion I have posted about before.   If one is confident of the trend of the major indexes, it is far easier to just ride the appropriate leveraged index ETF than to attempt to find the few individual stocks that will outperform them.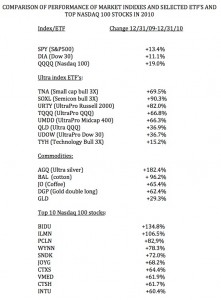 The SPY increased +13.4% last year, the DIA, +11.1%, and the QQQQ, +19.0.   As we all know, most mutual funds compare their performance with that of the S&P500 Index, reflected in its ETF, SPY.   But remember, mutual funds cost more than ETF's because of larger sales and management fees.   So over time, most mutual funds fail to consistently beat the S&P 500 Index.   But look how well the leveraged Index ETF's did last year.   If one thought that the tech stocks were in an up-trend and one bought the TQQQ (UltraPro QQQ ETF) one's account would have grown +66.8%, more than   three times the QQQQ and five times the SPY!   Even the double QQQQ ETF, QLD, advanced +36.9%.   In the past, I traded TYH (+15.2%), as a leveraged ETF proxy for tech stocks, but now I have discovered that the   TQQQ performs much better.   Some commodities did quite well last year, especially gold and silver.   If one bought the popular gold ETF, GLD, it went up +29.3%, but the double long gold ETF, DGP, went up +62.4%.   The Ultra silver ETF, AGQ, increased +182.4%! Finally, note that only the top performing 10% of the Nasdaq 100 stocks went up 60.4% or more.
Now, how likely is it that we are going to do trying to identify the minority of   individual stocks that outperform the leveraged ETF's and investing heavily in them? I suggest that if one is going to go long, one can do much better by just buying some of these leveraged index ETF's.   How much easier this is than looking for the proverbial needle in the haystack.   In addition, one does not have to worry about adverse news or earnings from a single stock decimating one's portfolio.   The Index, by definition, reflects the performance of a   number of stocks.
As I have written before leveraged ETF's go up and down faster than their underlying index.   So, if the GMI indicates we are in an up-trend, I wade in slowly and only buy more as the index climbs and confirms the trend. My guess is that the financial establishment, brokers and mutual fund managers, do not want us to discover the value of riding these index ETF's.   It means less money under management and less trading, resulting in fewer transaction fees and less income for them.   They typically try to scare us away from them by saying that they go down faster than they go up. But remember, unlike mutual funds, you can exit ETF's during the day and use stop losses. You can also buy back in at will, if you decide you were wrong. So you can manage risk a lot more effectively than with most mutual funds which tend to prohibit market timing and which only let you exit at end-of-day prices. Just remember, the data in the table provide the evidence of performance for the entire past year. (I have not even touched upon the additional use of the inverse leveraged ETF's to protect oneself during a sustained market down-trend.) The GMI keeps me on the side of the market's trend and guides my selection of ETF's. I especially like to buy the bullish leveraged ETF on the first day of a new QQQQ short term up-trend. What do you think?