It looks like the short term trend of the QQQQ may turn up again. If the index holds on Monday, I will resume the short term up-trend count.   A lot of stocks appeared to bounce off of support last week.   NOG retraced to support and then broke again to a new high.   The following stocks in my watchlist found support last week:   ARMH, CAVM, HANS, PCLN, RVBD, COST, POT, BHP, AAPL, CMG, BIDU, IBM, CTXS, OPEN, PANL, PAY, APKT.   If I were looking for buy candidates, I might buy one of these companies and place my sell stop below the low of the recent bounce.
One of these stocks, which is on the IBD50 list, is LULU.   I like to buy stocks on the IBD 50 list because they meet IBD's stringent fundamental and technical criteria. I wrote about LULU when it broke out a few weeks ago.   During last week's weakness, the stock retraced back to its break-out point (horizontal line), and held (see daily chart below).   When a stock breaks out of a trading range, the level where it has been turned back and stops advancing, once broken, becomes a support level.   (This occurs because people who missed the break-out get a second chance to buy the stock near that level.) If I owned, or bought LULU, I would sell if it closed below support, now around $73.50.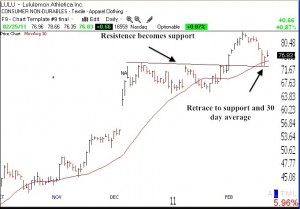 Another stock that caught my attention is MSTR.   It has already broken out from a cup-with-handle pattern and is somewhat extended from the proper pivot point (horizontal line).   On the other hand, MSTR is nicely tracking its 4 week average (red dotted line) and would be a suitable buy only for the most aggressive traders, with a stop below the 4 week average, currently around $115. Note that the 4wk average > 10wk avg >30 wk avg, an important sign of a strong up-trend.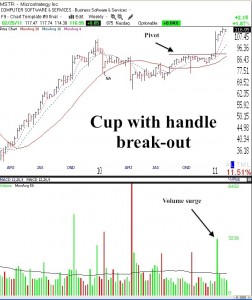 You can read about the cup-with-handle pattern here. The "NA" in this weekly chart shows when IBD wrote about MSTR in its New America column about visionary companies. Click on all charts and tables to enlarge.
The GMI is now back to 4, and the GMI-R is at 6.   There were 167 new 52 week highs in my universe of 4,000 stocks on Friday, a sign of strength. The QQQQ and SPY have now closed above their 10 week averages for 25 weeks, a critical sign of longer term strength.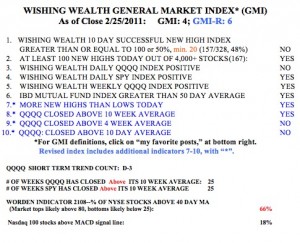 The short term down-trend of the QQQQ reached its 3rd day (D-3) on Friday. A flat day or an advance on Monday would start a new short term up-trend count. The T2108 indicator is at 66%, in neutral territory.   However, only 18% of the Nasdaq 100 stocks closed with their MACD above its signal line, reflecting recent short term weakness.
Bottom line for me, it is okay to be long in my trading IRA account again, as long as we do not get weakness on Monday.   I am most certain of a short term trend once it reaches 5 days.   So, last week's weakness may be just a short term hesitation in the longer term up-trend.   With AAPL set to release the second generation iPAD on Wednesday tech stocks may rally.